Plumbing Repair & Installation Contractors Serving Central Texas
For residential and commercial plumbing repairs, consider Woods Comfort Systems. We offer a complete range of plumbing solutions in San Marcos, New Braunfels, Kyle & Buda, TX. No matter if you're having trouble with clogged toilets, broken pipes, or sluggish drains, we are equipped to remedy the problem.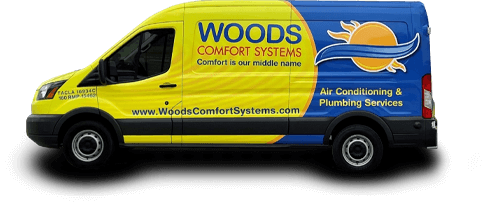 Your Answer to Plumbing Problems in San Marcos
At Woods Comfort Systems you find professional and experienced plumbers. Our plumbing team is trained and certified to work on various types of systems and plumbing problems.
Leaky Pipes
Get leaky pipes fixed right away. Leaks can lead to microbial growth growth and cause damage to fixtures. Even the smallest leak can very quickly become serious, leading to a greater problem than the original one. Leaks are no trouble for the team at Woods Comfort Systems. We will repair or replace the affected area efficiently with minimal disruption to you.
Toilet Woes
Is there anything more frustrating than a toilet that will not flush? Toilets that won't flush for one reason or another are likely the most common of the complaints we receive. There are simple ways to remove clogs, but when they are caused by something beyond your reach, your efforts will be futile. Tree roots or problems deep within the plumbing system can often cause clogs. We have the tools to correctly identify and repair such problems. If your toilet requires regular plunging, there could be an obstruction in the trap or down the drain pipe.
Another common problem with toilets is when they continue to run for an extended period after a flush. This likely indicates a leak and it is important to contact your plumbing professional as soon as possible to avoid water waste and a high water bill. A leaking toilet can waste up to 200 gallons of water per day.
Bathroom Drains and Faucets
Your bathroom drains will become affected by gunk and buildup from use over time. We have the right products and tools to take care of any drain or water line system problem with your showers and tubs, bathroom sinks, toilets, and faucets. We are experts at faucet repair of all types. From compression and cartridge to disk and ball, our expert plumbers will have your faucets working again in no time.
Kitchen Sinks
It is easy for kitchen pipes to become blocked. There are several opportunities throughout the day for food particles to bypass the drain. Eventually, this can cause a clog. Sometimes too, items can get caught in the garbage disposal and cause it to stop working. In some cases, a simple flip of a switch can get it going, but other times a little more labor-intensive work might be needed. We can handle all kitchen water systems:
Faucet repair

Garbage disposal repair

Drain cleaning
To help avoid costly plumbing repairs, consider having an annual inspection for preventive maintenance. Let us help you keep your systems running smoothly and efficiently. Catching problems early can save you money in the long run.
Woods Comfort Systems is equipped to handle any plumbing job that you might need. From clogged sinks to backed-up toilets, we are up for the challenge. We offer service for those plumbing problems that occur at the worst possible times. If you have a plumbing need or would like more information about our services, just give us a call. We look forward to continued service in the New Braunfels, Kyle, Buda & San Marcos metropolitan service area.