Reliable Air Conditioning Repair & Installation Services in San Marcos, Austin, Maxwell, Wimberley, TX and Surrounding Areas
At Woods Comfort Systems, we offer a full range of air conditioning services to ensure that you stay cool and dry during the long, hot summers in South Central Texas. No matter how high temperatures rise outside your home or business, our experienced technicians have the know-how it takes to make sure that your indoor environment stays comfortably cool. From a timely air conditioning repair that extends the life of your cooling system to an energy-efficient new AC installation, our products and services are designed to save you money without compromising your comfort at home and work.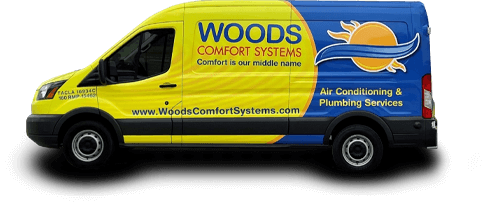 If the cooling system in your home or business develops problems, a timely fix can prevent a simple malfunction from turning into an expensive AC repair or premature replacement. Because an expert assessment of the problem is key to minimizing costs, all our knowledgeable technicians are equipped with the HVAC diagnostic tools and equipment they need to resolves issues efficiently. Should a breakdown occur, we assure that you will never have to wait long for service.
Our Comfort Care Plus Memberships provide you with a convenient and cost-effective way to improve your cooling system's efficiency and lower your operating costs. Performing regular HVAC inspections, tests and tune-ups not only enhances the performance of your air conditioner but helps prevent future repairs and makes the equipment last longer as well. Enrolling in our preventive maintenance programs offers additional perks too, including priority service, discounts on parts, and reduced fees.
Air Conditioning Repairs, Installations, and Replacements
Whether you need an air conditioning installation for new construction, an AC system replacement for your existing home or business, or even repair your current system, you can count on our comfort specialists to guide you toward the best cooling solution for you. Our 60 years of experience in South Central Texas have made us experts on energy-efficient systems so that you can hold on to more of your hard-earned dollars. Best of all, each of our cooling system installations is backed by our Peace of Mind Guarantee, which covers any service call related to equipment failure for 10 years after installation, providing that the system receives annual maintenance.
High-Tech Cooling Solutions
A new AC installation offers you opportunities to enjoy the latest advancements in HVAC technology as well, such as air conditioners that operate at lower fan speeds when cooling demands are low. From WiFi-enabled systems you can control with your smartphone to high-efficiency heat pumps, a new AC replacement lets you experience an enhanced level of comfort and convenience while saving energy and money too.
The complexity of HVAC systems makes it essential to trust AC repairs, maintenance, and installation to experienced contractors. At Woods Comfort Systems, our technicians are NATE-certified professionals with a proven record of expertise in the HVAC and AC field. We follow industry guidelines and best practices to ensure that every air conditioning system we service, repair or replace meets your cooling needs to perfection.