Central Texas Residents Improve Attic Ventilation with Our Attic Insulation Replacement Service
When it comes to lowering your monthly energy bills, few home improvements offer a better return on your investment than attic insulation. Without an effective thermal barrier between your living spaces and the attic, your heating and air conditioning systems have to work overtime to keep your home at optimal temperatures. As your local energy efficiency experts, Woods Comfort Systems is your source for attic insulation installation that saves you money and makes your home in South Central Texas a more comfortable place.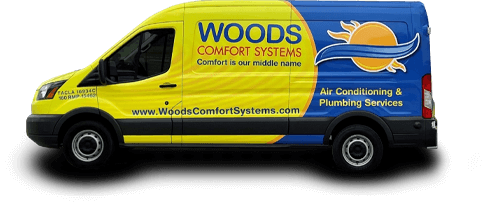 Beat the Heat with Attic Insulation
Attic temperatures can reach as high as 150 degrees during a Texas summer. Because heat naturally flows from warmer to cooler areas, you'll find that without insulation, heat moves from the attic to adjacent conditioned spaces. Your air conditioner is forced to run longer to beat the heat when your attic isn't properly insulated. Similarly, during the winter, heat inside your home can be lost to a cooler attic sending your heating expenses soaring.
Attic insulation installation lowers your monthly energy bills and also protects your heating and cooling system. When your system has to work harder to heat and cool your home this increases the need for repairs and even replacement.
Attic Insulation Replacements
Although new insulation can often be laid over existing materials, sometimes replacements are necessary. Insulation damaged by insects, rodents, microbial growth, water, or even time, needs to be removed before installing new materials. Insulation replacement offers opportunities to resolve other problems too, such as poor attic ventilation, leaking plumbing pipes, and fire hazards like frayed electrical wires. Improvements such as sealing any gaps between the floor boards, or installing a fan for better attic ventilation, are money-saving extras worth including in an insulation replacement project.
Insulation Material Options
Making decisions about insulation materials requires knowledge of what options are most effective for homes in South Central Texas. With 60 years of experience serving communities from Austin to San Antonio, we know what it takes to make your home comfortable while saving energy and your money. Our familiarity with local construction practices, building codes, and energy performance standards means that you can trust us to recommend the right insulation material for your home.
Energy-Efficient Solutions
Energy efficiency is important to us at Woods Comfort Systems, which is why we are committed to providing services like insulation installation. Our goal is to optimize the HVAC systems we repair, maintain, and install by providing complementary services that also save you money while enhancing the level of comfort you enjoy at home.