Central Texas Residents Let Us Install a New Nest Thermostat in Your Home Today
Programmable thermostats trace their roots back to the early 1900s, but it was not until the 1990s that they included controls for ventilation, humidification, and dehumidification as well as temperature. The benefits of being able to program your thermostat include greater comfort, reduced energy bills, and increased HVAC efficiency. Programmable thermostats automatically set the temperature in your home at various times throughout the day. That means you are not wasting energy heating or cooling your home while you are away or sleeping.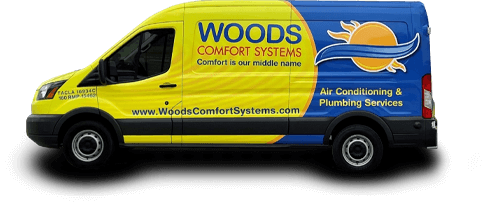 Traditional programmable thermostats have given way to Wi-Fi thermostats, which allow you to have even greater control over your comfort. Wi-Fi thermostats let you access your HVAC system remotely from a smartphone, tablet, or anywhere you can access the Internet. Woods Comfort Systems is proud to offer Nest Thermostats — one of the most user-friendly and intuitive thermostats on the market today.
The Learning Thermostat
The Nest Learning Thermostat adapts easily to your lifestyle and preferences. Each time you raise or lower the temperature, Nest remembers, and after about a week, it retains that pattern and is able to automatically respond based on your expected routine. As your life and the seasons change, so does the Nest thermostat.
In addition to an affordable up-front cost, Nest Thermostats save you money by reducing energy costs. Studies show that homeowners save 10 percent to 12 percent on their heating bills and 15 percent on their cooling bills by using a Nest thermostat. It is hard to beat a Nest when it comes to affordability, energy efficiency, and ultimate comfort.
Added Protection
Wouldn't it be nice to know in advance if something is about to go wrong with your heating and cooling system? Or that you no longer have to worry about frozen pipes or extreme heat buildup? Nest Thermostats incorporate several features that warn you when something is amiss:
Furnace Heads-Up: This feature monitors your forced-air furnace and alerts you when it detects a problem such as frequent shut-offs. With Furnace Heads-Up, you can avoid sudden breakdowns in the middle of winter.
Safety temperatures: Safety temperatures prevent extreme highs and lows in your home. If the temperature drops below your safety temperature, the heat automatically turns on, even if your system is in off mode. Likewise, if temperatures rise above your safety temperature, the system instinctively kicks on and distributes cool air throughout your home.
Safety alerts: Nest technology automatically generates a safety alert when temperatures exceed your safety temperatures, when it detects a furnace problem or when you have a clogged filter. With Nest safety alerts, you will have peace of mind knowing that your home is protected 24/7, 365 days a year.
If you are interested in a home automation system that focuses on your specific comfort needs, the Nest Thermostat is the answer. Contact us today to learn more about how the ease and convenience of the Nest Learning Thermostat can save you money and deliver the utmost in comfort all year long.