Providing Honest and Quality Plumbing & HVAC Contractor Services to Maxwell, Austin, San Marcos, Kyle, Wimberley, TX and Surrounding Areas
Woods Comfort Systems specializes in delivering a complete line of heating and cooling services to residential and commercial customers in Central Texas. Whether you need a furnace repair, central air installed in a newly built home or a solution for dry air, we are the HVAC contractor to call in Central Texas and the surrounding area.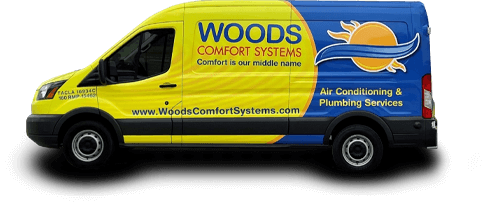 Our company dates back to 1956 when it began as C. Woods Company in Tyler, Texas. The Woods Comfort Systems name came just over 50 years later, reflecting our focus on providing services and systems that satisfy our customers' needs, and we strive to deliver 100 percent customer satisfaction with every job we do.
A Well-Established HVAC Contractor
As a third-generation heating and cooling company, we draw upon a lifetime of experience. For six decades, we have provided Texans with outstanding service, competitive pricing, and practical solutions to their HVAC needs. We earned our exceptional reputation by adhering to old-fashioned, but time-tested standards such as honesty, fairness, and genuine concern for our customers.
We don't want to work with our customers on just a one-time basis. We strive to develop long-term relationships so that our customers have a trusted source to turn to when they face an HVAC challenge. Passing from father to son for three generations and with years of service and commitment to the San Antonio region, at Woods Comfort Systems, "we don't have branches, we have roots."
An Outstanding Heating and AC Repair Company
We understand the importance of time when you need a furnace or air conditioner repair. With our staff, you will not have to wait long for a friendly technician to arrive at your home or business. All of our technicians carry NATE and EPA certification, so you can be certain you will get top-notch, quality service. Equipped with the education, tools, and experience to repair all brands of HVAC equipment, our repair service technicians do the job right while keeping your discomfort and downtime to a minimum.
A Responsive Heating & Cooling Company
Woods Comfort Systems is more than just a heating and AC repair company, however. We believe in providing a whole-home approach to energy efficiency and year-round comfort, which is why we include indoor air quality solutions, attic insulation, and duct cleaning in the services we offer. When the time comes for you to replace your furnace or air conditioner, we are here to answer all of your questions and guide you in making economical, efficient choices.
Not all HVAC contractors are the same. When you want an HVAC professional, call Woods Comfort Systems. From planned maintenance to new construction to HVAC systems, you can rely on us keep you comfortable. A fully licensed and bonded heating and cooling company, we serve the communities of Central Texas, San Antonio, New Braunfels, Wimberley and Austin.
Areas of Service