Duct Repair & Duct Replacement Services in Central Texas and Surrounding Cities
Ductwork plays a critical role in the energy efficiency, performance, and durability of your forced-air HVAC systems. It keeps you cool and dry through the long, hot Texas summer and provides you with the welcoming warmth you want when the weather turns cold. At Woods Comfort Systems, we offer the professional duct services you need to enjoy the highest level of comfort every season of the year.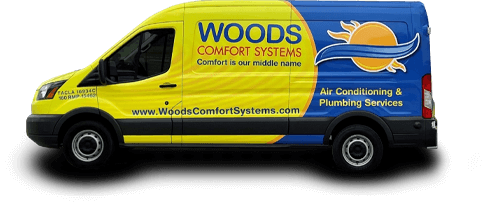 Duct Repair Services
Most air ducts are constructed using sheet metal shaped to fit around corners and squeeze through narrow channels as they wind their way through your home. Over time, it's common for ductwork to develop leaks from cracks, gaps and loose connections. Even small leaks can have a significant impact on HVAC efficiency, wasting up to 30 percent of the air that you've paid to condition. Repairing the leaks saves you money through lower energy bills. Our duct repair services are designed to resolve other critical issues too, including:
Poor Indoor Air Quality. Leaky ducts provide an entry point for outdoor pollutants and allergens that can pose serious health risks to you and your family.
Uneven Performance. Leaks cause changes in air pressure that can lead to uneven or inadequate air delivery and hot or cold spots throughout your home.
Stress on HVAC Equipment. Leaks force heating and cooling systems to operate longer to reach desired temperatures, resulting in unnecessary wear and tear on critical components.
Air Duct Replacements
Leaks, cracks, and loose duct connectors can sometimes cause so much damage that an air duct replacement or a new system installation becomes the best option. Holes, gaps, and tears in the duct material can lead to severe problems like pest infestations, microbial growth growth, and water intrusion. At Woods Comfort Systems, our air duct services protect your family's health and safeguard your property with timely and affordable replacements that are far less intrusive than you might think.
Duct System Diagnostic Services
When it comes to duct repairs and replacements, expertise matters. For your comfort and safety, it's critical to establish and maintain the proper air pressure when making repairs or installing new systems. Our professional air distribution tests and inspections allow our experienced comfort specialists to pinpoint any problems and supply the optimal solution. Whether repairing existing ducts or replacing worn-out ductwork, Woods Comfort Systems is here to ensure that your forced-air heating and cooling systems keep you comfortable for years to come.