Schedule AC Repair, Heating Repair & Plumbing Services Available in Buda, Austin, San MArcos, Driftwood, Dripping Springs, TX and Surrounding Areas
At Woods Comfort Systems, we understand that any interruption in the provision of heating or cooling in your home or business is a big deal. That is why we offer furnace repair and AC repair for residential and commercial customers in Central Texas, San Antonio, New Braunfels, Austin, and Wimberley.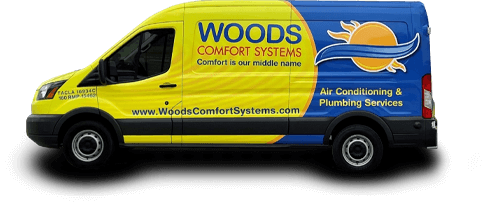 We are the premier 24-hour heating repair and AC repair company in Central Texas. For 60 years, our highly-capable technicians have responded swiftly to HVAC emergencies with vehicles well stocked with replacement parts. Our technicians have the skills and training to repair all brands of heating and air conditioning equipment.
Areas of Service
AC Repair
If your air conditioner suddenly stops delivering cooling comfort in your home or business, Woods Comfort Systems has the knowledge to get your system running again with minimal downtime. We are the experts you can trust.
Heating Repair
When you have a home heating crisis, Woods Comfort Systems is the heating specialist to turn to for a rapid response. Our repair technicians are on standby around-the-clock, 365 days a year, ready to handle whatever home heating issue you may encounter.
More than Just Heating and Air Conditioning
Woods Comfort Systems excels at more than just heating and cooling equipment. Our comfort specialists also have experience in attic insulation, duct cleaning and sealing, and indoor air quality solutions.
If you need furnace repair or any other HVAC service, contact Woods Comfort Systems today at (512) 842-5066. Speak with any member of our qualified team and learn why we are an HVAC leader in Central Texas and the surrounding area.