Water Softener and Filtration Installation, Replacement, Repair and Maintenance Services Available in Austin, TX and Surrounding Areas
The Environmental Protection Agency regulates more than 90 contaminants found in water. Whether you're showering, cooking or cleaning, you rely on the water that comes out of your faucets to be clean. The best way to guarantee that is to invest in water softening and filtration. At Woods Comfort Systems, we provide all the water softening and filtration services you need to enjoy a clean water supply all the time.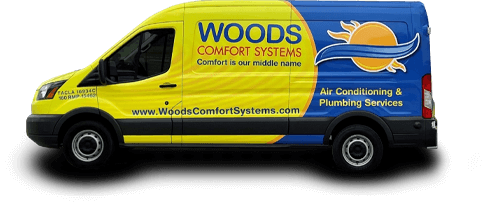 Water Softener Installation and Service
Hard water contains minerals, including magnesium and calcium, that come from layers of rock and soil underground. You'll notice soap scum in the bathroom or discoloration on your shower curtain if you have hard water. Limescale can build up in your plumbing system, leading to calcification, corrosion and pipe failures. Installing a water softener can guarantee cleaner water and a longer lifespan of plumbing fixtures.
Whole-Home Water Filtration Installation and Service
Clean water is a necessity. You drink it, bathe in it and wash your clothes with it. If your water looks contaminated, tastes bad or smells awful, it's time to install a whole-home water filtration system. By doing so, you'll improve your quality of life by guaranteeing you always have clean and safe water at a moment's notice. Woods Comfort Systems specializes in water filtration installation and service, and our team of plumbing professionals will make sure that your home's water supply is safe for your family to enjoy.
Reverse Osmosis Installation and Service
Reverse osmosis is an advanced process that filters water. Most industrial plumbing systems use reverse osmosis, and now you can take advantage of it in your home. You can install a reverse osmosis unit on individual faucets or as part of a bigger water system. By installing a reverse osmosis unit, you'll make sure that all the water that flows through and around your house is purified. The friendly plumbing professionals at Woods Comfort Systems can install your reverse osmosis unit within a few hours.
Do you want to enjoy a clean and safe water supply in your home? Don't put your family's health at risk. Contact Woods Comfort Systems to install a water softener or whole-home filtration system. We offer high-quality plumbing products at fair prices.