Breathe Easier with Our Indoor Air Quality Services & Products
When it comes to air pollution, most people think about smoggy, industrialized cities, but the truth is that the air inside the average home in Texas is often many times more polluted. We spend a considerable amount of time indoors which means that we also spend more time with those contaminants trapped inside. We take your health and safety seriously at Woods Comfort Systems, which is why we're proud to offer an array of indoor air quality products and services that can help to make the air in your home healthier to breathe.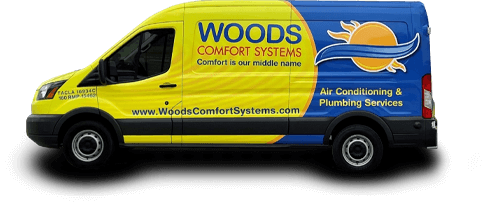 Indoor Air and Your Health
Airborne pollutants are particularly problematic for people with allergies, asthma, and other respiratory conditions, but long-term exposure to contaminants poses health risks for everyone in your home. Symptoms range from chronic coughs, headaches, and runny noses to serious illnesses like Legionnaires' disease. At Woods Comfort Systems, our indoor air quality services are designed to alleviate any concerns you may have about the harmful health effects of indoor air pollution.
Optimizing your Indoor Air for Healthier Living
Solaris®indoor air quality products bring outdoor-like freshness to your entire home while making the air healthier by removing allergens, germs, and airborne toxins. Solaris IAQ components are a unique set of Indoor Air Quality (IAQ)improvement products, each focused on a specific type of indoor air pollution. While they can operate independently, they are also designed to work as a group creating an efficient, integrated whole house indoor air quality improvement system that not only makes the air genuinely fresher and healthier top to bottom, they can at the same time reduce the cost of cooling and heating the air in your home. Call Woods Comfort Systems for more details about this product.
Air Purifiers and Cleaners
Whether it's allergens like dust mites and pet dander, or chemical emissions from building materials and furnishings, there are likely more harmful particulates in your home than you might realize. The most effective indoor air quality products will help eliminate even the particles that you can't see from the air you breathe. Air purification solutions include:
Whole-home air purifiers that work in tandem with your forced-air HVAC system to capture microscopic particles and kill biological pollutants.
High-efficiency filters that help to keep tiny particulates from circulating through your home while also helping to improve your HVAC system's performance.
Ultraviolet lamps installed near cooling coils to keep the growth microbial growth, mildew, and harmful bacteria at bay.
A Breath of Fresh Air
In addition to eliminating the primary sources of pollutants in your home or business, it's important to ensure that your indoor environments are properly ventilated. When weather conditions limit opportunities to let fresh air inside, indoor air quality products like ventilators offer energy-saving solutions. Engineered to work with your heating or cooling system, these ventilators use energy captured from outgoing air to introduce conditioned fresh air into your home.
HVAC System Optimization
Our preventive maintenance and diagnostic services help to ensure that the air your comfort systems circulate through your home is healthy for everyone. Leaks in your building's envelope, high humidity levels or problems with air pressure in the network of ducts in central HVAC system can lead to a harmful accumulation of pollutants. Without regular care, heaters and air conditioners can also develop dangerous leaks that pose health, fire and safety hazards to your family.
From top-quality filtration products to regularly scheduled maintenance, and ductwork services, Woods Comfort Systems is dedicated to providing you with effective ways to safeguard your loved ones from the harmful effects of indoor air pollution.