Keep Your System Running at Its Best with Our Heater & Air Conditioner Maintenance Services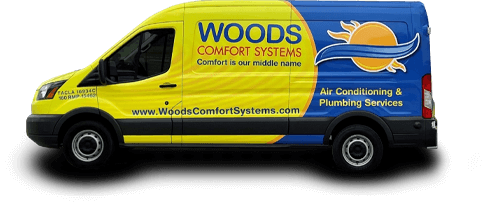 Air Conditioner and Heating Maintenance
Air conditioner maintenance and heating maintenance are critical to sustaining a comfortable environment at home and in the workplace. Regular HVAC checks lead to an efficient, smoothly operating heating and cooling system. Unfortunately, many people neglect their HVAC systems and eventually experience problems including:
Inconsistent heating or cooling throughout the home
The need for frequent and sometimes very expensive repairs
High energy bills because of an inefficient system
Woods Comfort Systems has a 60-year track record of professionally maintaining residential and commercial heating and cooling systems in Central Texas. Skilled technicians, excellent service, and practical, affordable maintenance plans are why you can count on us to keep your system working at its best.
Benefits of Air Conditioner and Heating Maintenance
A planned program of heating and air conditioning maintenance is the best way to forestall unwelcome interruptions in your comfort. The last thing you want when the temperatures in Central Texas begin to heat up is to discover your air conditioner is low on refrigerant. Likewise, you won't want to wake up on a January morning and realize that your furnace is blowing air that is as chilly as the air outside. Regular maintenance reaps several advantages including:
Reduced energy bills
The identification and repair of small problems before they become major catastrophes
Increasing the lifespan of your equipment
Trained Professionals
When you entrust your heating and air conditioner maintenance to Woods Comfort Systems, you will have peace of mind knowing that professionals are looking after your valuable equipment. Our NATE-certified service technicians can perform maintenance on the leading makes, brands, and models of HVAC equipment. We make it easy for you to schedule a maintenance call so you can be prepared for whatever the seasons may bring.
Comfort Care Plus
At Woods Comfort Systems, we care about our customers' comfort. That's why we offer a variety of affordable heating and air conditioning maintenance plans based on your budget, comfort needs, and equipment condition. Whether you choose our twice-a-year Planned Maintenance Agreement or one of our quarterly Comfort Care Plus maintenance programs, you will get nothing less than the best:
Priority service
Same-day service calls
Thorough inspection of your system
Precision tune-ups
Discounts
Annual maintenance also works hand-in-hand with our Peace of Mind Guarantee. As long as you maintain your heating and cooling system annually, you will not pay for service calls for equipment failure up to 10 years after installation.
Why risk the headaches that come with a malfunctioning heating or cooling system? Give us a call today at 512-842-5066 and ask about our maintenance plans. We serve the communities of Central Texas, San Antonio, Austin, New Braunfels and Wimberley.