Drain Cleaning and Unclogging Services Available in Austin, Buda, TX and Surrounding Areas
The pipes located around and underneath your house move water to and from your home. They function to provide you with clean water or flush waste at a moment's notice. Your plumbing system includes drains, and when they clog, it can't function as it should. This can result in a messy situation and disrupt your life. Woods Comfort Systems specializes in many plumbing services, including drain cleaning and unclogging.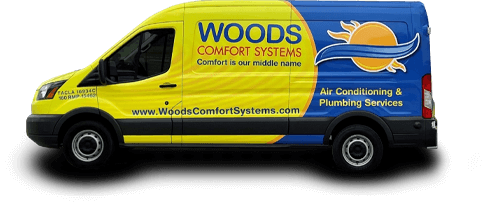 What Causes Clogged Drains?
When you think of a clogged drain, you likely assume the clog started at the opening of the drain. But most drainage issues occur at deeper areas of the drain and pipes. A seemingly minor issue can develop for years without notice into a major problem. That's why you must schedule drain cleaning and unclogging regularly. Many things cause clogged drains, including ground settling, roots, foreign objects, erosion, drain pipes collapse and misaligned drain pipe sections. We can find and fix the drain clog quickly.
Common Signs for Clogged Drains
It's vital to contact a professional plumber as soon as you suspect an issue with your drain. The more time that passes, the higher the risk of more severe problems like busted pipes and property damage. Contact us right away for a drain cleaning and unclogging if you notice these signs:
Showers and tubs drain slowly.
Sinks are backed up and not draining fast.
Hear gurgling sounds during draining.
Smell unpleasant odors.
Toilets bubble when sink faucets are running.
Why Choose Woods Comfort Systems
Although founded in 2009, Woods Comfort Systems dates back to 1956 when it began as C. Woods Company. Since then, the company has focused on providing plumbing services and systems that satisfy our customers, including drain cleaning and unclogging. Here's why homeowners continue to trust us to unclog their drains:
We're a third-generation plumbing company.
We believe in old-fashioned, time-tested standards, including honesty.
We strive to develop long-lasting relationships with our customers.
We offer free second opinions on repairs and replacements.
We don't have branches; we have roots in the community.
Are you dealing with drainage issues in your home? Don't wait for the problem to fix itself. Contact Woods Comfort Systems today for fast and friendly drain cleaning and unclogging service. We'll make sure your pipes are functioning as they should.