We Are Your New Construction HVAC Experts for Central Texas
Building a new home is an exciting milestone in your life, but the process can also be fraught with anxiety-producing decisions. One of the most significant challenges you will face in new home construction is making sure you install a heating and cooling system that will provide you with complete indoor comfort throughout the year. Area home builders request Woods Comfort Systems because they know that we lead the way when it comes to new construction HVAC installation in Central Texas and the surrounding area.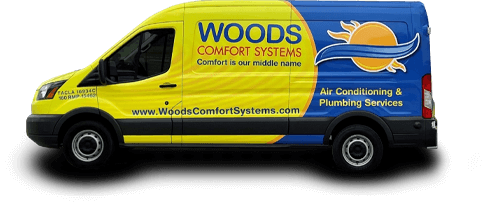 We offer a range of services that will provide the comfort you want in your new home including:
Air conditioning and heating system installation and service
Computer-controlled comfort systems
Quality Equipment
Regardless of the size of your new home, your new construction HVAC system should be energy-efficient, affordable, and long-lasting. We install top-of-the-line HVAC systems from trusted manufacturers like Bryant. Quiet during operation and backed by outstanding warranties, you can trust our new home air conditioning systems to provide lasting comfort for years to come.
Accurate Sizing
We believe that accurate HVAC design is a part of all successful new construction projects. To work efficiently and provide the comfort you want, new home air conditioning systems must be sized correctly. Our installation specialists at Woods Comfort Systems draw on years of experience designing systems that ensure a comfortable indoor environment for your home or business. We start by analyzing your building plans to account for features such as the square footage, number of rooms, and number of occupants. Then we work with homeowners and builders to clarify lifestyle preferences and incorporate other important factors such as solar/shade impact on the home. Based on these and other considerations, we calculate what the energy demands will be and design a system uniquely tailored to maintaining your comfort all year long.
Expert Installation Specialists
Our installation specialists carry certification by North American Technician Excellence (NATE), which means they are up-to-date on the latest technology in air conditioning and indoor air quality control. Our installers also undergo extensive factory training from Lennox and Bryant. As a member of the Air Conditioning Contractors of America, we are committed to observing high installation standards. When you choose Woods Comfort Systems as your new construction HVAC installer, you can be confident that we will do the job right, on time, and at a competitive price.
Whether you are a do-it-yourself home builder or a professional contractor, Woods Comfort Systems is the company to call in Central Texas for new home air conditioning installation. We take pride in helping build our community by delivering quality solutions that stand the test of time. Give us a call today to request a free estimate for installing air conditioning equipment in your new home.